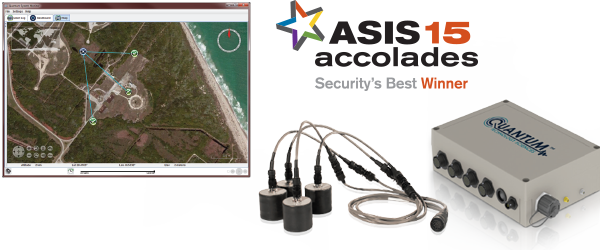 Anaheim, Calif. – September 28, 2015 – ASIS International, the preeminent organization for security professionals worldwide, honored Quantum Technology Sciences QA-100 with SADAR with a 2015 Accolades award for most innovative security product. The intrusion detection and movement monitoring solution was awarded for its ability to detect, classify and tracks multiple and diverse threats over significant distances without line-of-sight.
QA-100 with SADAR offers real-time actionable information that a potential threat exists long before a line-of-sight technology can, and tracks that threat's movement even under cover of dense foliage, terrain, and darkness. Seismic-Acoustic Detection and Ranging is an industry first for:
Omni-directional situational awareness for the following potential threats: land-based motor vehicles at nearly 600 meters, UAS at 450 meters, human footsteps at 300 meters, and tunneling activity at 50 meters.
QA-100 with SADAR uses a sophisticated, concealed sensor array to detect, classify, and track those key targets of interest without requiring line of sight to the target.
"No other perimeter security product commercially available offers the scope of target detection at the distances provided by QA-100 with SADAR, both covertly and in real-time," says Quantum Technology Sciences CEO Mark Tinker, PhD. "We designed our system to classify and track movement of key targets of interest to critical infrastructure including drones, vehicle traffic, pedestrians and tunneling. This solution creates the awareness zone needed to remain vigilant to today's security challenges."
Quantum Technology Sciences will demonstrate the award-winning product at the ASIS International 61th Annual Seminar held September 28 through October 1 in exhibit booth 4147. Conference attendees will see in real-time how the perimeter security solutions classify and track the location and type of intrusion not only at and within a security perimeter, but well beyond, out to a more extensive awareness perimeter. An expanded awareness zone enables proactive security, where threats can be identified and more effectively deterred or neutralized before doing harm.
About Quantum Technology Sciences
Quantum Technology Sciences designs and sells intrusion detection and movement monitoring solutions to safeguard highly valued assets, critical infrastructure, borders, and perimeters. Founded in 1991, Quantum is the first security and surveillance company to maintain an awareness perimeter where threats in the air, water and land are detected, tracked, and classified in real-time. For more information, visit www.qtsi.com.