How to protect assets using awareness zone technologies
 BY MARK TINKER, Quantum Technology Sciences
Theft, destruction, disablement, vandalism, and terrorism: any of the aforementioned words receive the attention of organizations with susceptible critical assets. Physical security and its costs, benefits, and risks are becoming more important as each day passes. Important, not only from a safety and security point of view, but also from the perspective of its value to operations, strategy, and even the overall bottom line.
INTRUSIONS
Historically, physical security mainly described stopping intrusions such as by installing physical barriers around substations. Traditional sensors, if any, monitored critical assets to detect such intrusions. Currently, modern security leverages technologies such as sensors, cameras, microphones, buried fiber optic cables, fence detection systems, unattended ground sensors, infrared (IR) solutions, or radio frequency (RF) trip-wires to monitor, typically, critical assets for potential threats.
However, traditional sensors have limitations, as most are line-of-sight or direct contact sensors. These detection mechanisms can have blind spots, limited detection ranges, high nuisance alarm rates, high maintenance expenses and calibration demands, and expensive output monitoring costs. These costly systems are designed more to report intrusions than as a form of prevention. Thus, these systems cater to a "reactive" security posture.
New technologies, however, show that staying current on the latest developments on security solutions may provide an operational cost savings. Advancements in acoustics are allowing operators to create a "proactive awareness zone" around their asset, allowing their system to interact with potential threats "outside the fence", eliminating blind spots, extending detection ranges, minimizing nuisance alarms and maintenance costs, and automatically delivering actionable information.
The key to deterring, not just reacting to, intrusions lies in having proactive awareness zones surround an asset, delivering descriptive information of human activity in the zones, and providing time and space to intervene in that activity before any physical barriers are breached and damage or loss can occur. Within the awareness zone, threats have not yet fully committed to the act and thus are significantly easier to deter.
ACTIVE DETERRENT DEVICES
Active deterrent devices can include strobes, sirens, voice automation, active lighting solutions, or, ultimately, dispatching security personnel or police to the scene. New technology can provide proactive awareness zones of significant size and in three dimensions around an asset, evaluating and alerting on potential threats on the ground or water, underground or underwater, and in the air.
The new technology shows significant improvements in functionality such as small, invisibly buried, automated vibration sensors that can detect, direction-find, classify, and alert on human activity in wide areas and line-of-sight "blind spots". Additionally, newer sensor systems possess higher levels of analytical logic, which is the capability of integrating data from multiple sensors and sensor types to model and classify human activity with greater accuracy.
Further, improvements in system and network communications are moving physical security solutions toward the simultaneous monitoring of multiple sites through a network of systems. Also, the "pattern of life" at individual sites may be monitored and analyzed to help detect anomalies generated by the presence and activities of potential threats. In this case, "pattern of life" refers to persistent surveillance of a site to document the normal range of activities and timing in its vicinity over a duration of time.
The culmination of awareness zone technologies is a significantly higher probability of deterrence. Imagine deterring and, therefore, eliminating 50 percent of all incidents without human intervention. This sophistication and subsequent benefit holistically impacts an organization. The lower lifecycle costs and reduced labor to deliver a proactive physical security solution, for instance, reduce and simplify operations expense and complexity.
The improved accuracy of security-related reportage minimizes the nuisance alarm rate, thus reducing costs further. The proactive security afforded by awareness zone technologies reduces damage sustained at protected sites. In turn, this positive result saves electric utilities repair and replacement time and costs, and provides priceless public relations benefits to utilities and other industries, which deliver critical capabilities to the public or to other essential infrastructural components, such as hospitals or first responder organizations.
The automated nature of newer awareness zone technologies simplifies the demands on system users and allows them to focus on the system output, not on system operational details. The networking ability of modern physical security systems gives users broad and immediate insight into the state of and potential threats to multiple sites of interest, not just one location.
PROACTIVE AWARENESS
Awareness zone technologies deliver proactive awareness of threats to an asset in time and with space to proactively intervene before damage or loss occur. If the threat is persistent, automated systems can forward actionable tactical information to responders. Moreover, these systems can develop detailed analytics for post-event evaluation and prosecution.
Strategically, electric utilities can further streamline and improve the efficiency of their operations through more comprehensive information technology and technical approaches to daily activities. For instance, integrating a high performance, proactive physical security system with a sophisticated cybersecurity or physical access system may provide security and operations personnel with benefits impossible to achieve with any individual system.
FINAL THOUGHTS ON DETERRENCE
At the recent Power Grid Resilience Conference in Washington DC, Quantum Technology Sciences hosted a roundtable for electric utility leaders that addressed the aforementioned opportunities. By establishing a physical security system or augmenting, replacing, or upgrading an existing system using new and evolving technologies, electric utilities can move their nonexistent or traditional, "reactive" physical security system to a modern, and more effective, "proactive" system.
Such systems have lower life cycle costs and higher performance, provide benefits throughout company operations, possess a capability for beneficial integration with other systems within the organization, and deliver an improved user experience. Up-to-date awareness zone technologies are a potential strategic building block to help facilitate future organizational growth, diversification, security, and effectiveness.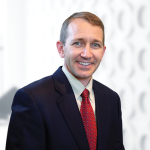 Mark Tinker is CEO of Quantum Technology Sciences. A Ph.D. seismologist with tactical geophysics and security expertise, his background includes development of a security technology that significantly expands situational awareness for critical infrastructure.
Read article on Electricity Today