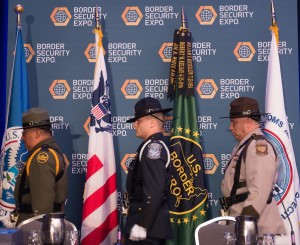 Addressing Emerging Border Challenges with Technology
At this year's Border Security Expo in San Antonio, Quantum Technology Sciences will join the international local, state, and federal law enforcement from across the country and around the globe to explore the education, solutions, and connections to make critical decisions needed to protect our borders from every kind of threat imaginable.
This year's conference will identify and address new and emerging border challenges and opportunities through technology, partnership, and innovation.
Quantum' seismic acoustic technology capability detects and classifies vibrations from all directions, all the time, providing a persistent three dimensional awareness zone of security on, above, and below its surrounding environment. These systems can detect low-flying light aircraft from over a mile away, classify and track walking and vehicular threats through a visibly impenetrable forest, alert to underground digging, and manage multiple intrusions simultaneously from a single system.
Seismic Acoustic Detection and Ranging Border Tunneling Detection Technology
Quantum's newest product, seismic-acoustic detection and ranging, SADAR® is proven to be a ground breaking tunneling detection and location capability. Not only can subsurface activity be located, but the source of energy can be classified as well. This is done using seismic acoustic detection and ranging border tunneling detection technology.
The company's tunneling systems localize tunneling activity and automatically generate alert message information when a signal of interest is detected. In operation, a SADAR® system automatically and in real-time detects, classifies, and localizes tunneling activity and usage.
Visit Quantum at Booth 427 on March 26 – 27, 2019. Learn more at www.BorderSecurityExpo.com.