Enhance Volumetric Situational Awareness around Critical Assets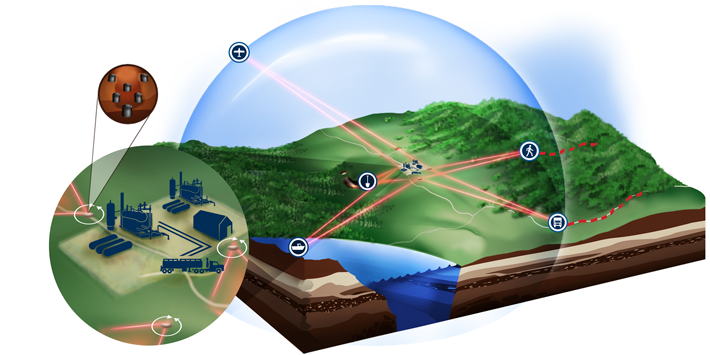 WHAT IS A QUANTASPHERE™?
Quantasphere™ is a term for the proactive awareness zone that Quantum's technology creates in three dimensions around an asset, evaluating and alerting on potential threats on the ground or water, underground or underwater, and in the air.
SPHERES OF AWARENESS
The choice of security tools is expansive and overwhelming. We encourage you to view your perimeter security differently and to look for a solution that takes intuition and turns it into intelligence. Our "Quantaspheres" are embedded around your asset, providing you layered awareness zones that are persistently monitored for activity.
SECURING THE BUSINESS
At Quantum we realize that it is not your job to just secure the building or just secure the network – Your job is to secure the Business. And that extends to operations around the globe – the ability to conduct business anywhere the world with confidence that your assets, personnel and information are protected gives you a competitive edge to grow your business in challenging times.
Establish a Quantasphere and increase the time and space to act.
Extended zones of awareness around your critical asset, beyond your hard perimeter to increase the probability of deterring a threat.
You don't know what you can't see, hear or feel – there's likely a gap in your Awareness Zone if all you have are LOS or direct contact security technologies.
Quantum's solutions and services are designed to illuminate what potential threats are lurking just out of sight and relay that information back to your security systems and personnel so they can make better informed decisions on how to react and potentially prevent something from happening before it begins – mitigating the business and personnel risk and costs to doing business or personnel safety.
You can positively affect the "bottom-line" by proactively deterring bad actors and prevent losses from happening vs. reacting and trying to prosecute after the fact.
What if we could reduce the number of intrusions you experienced by a significant percentage? What would a reduction in intrusions mean to your bottomline? The Vector Series solutions can also positively impact your bottom line by reducing operational costs of patrolling remote sites and increasing your probability of deterrence of bad actors from damaging critical assets by making your cameras and deterrence tools more effective at repelling the casual bad actor before he get's started.
You don't want to be the single point of failure in the Business Value Chain – confidently pass CIP physical security audits and protect your downstream customers.
Increasingly, key assets are being scrutinized by federal authorities for single points of failure in the Value Chain. Being one step ahead and prepared for audits by strengthening your perimeter's defense-in-depth posture around these facilities can mitigate potential disruptions or fines that come with failing an audit. Additionally, security can become a business enabler by hardening of assets. This creates a business opportunities to operate safely and confidently in high-risk or high-visibility areas where failure is not an option – leading to competitive advantages others in your field cannot match.