Intuition to Intelligence™
SENSE WHAT CAN'T BE SEEN.
Delivering covert physical security and operational information
Intrusion detection and movement monitoring solutions
Validate intuition with actionable information to respond confidently
ASIS International, the preeminent organization for security professionals worldwide, selected Quantum Technology Sciences intrusion detection solution as a 2014 ASIS Accolades winner during their annual conference in Atlanta. The competition recognizes the security industry's most innovative new products, services and solutions.

Driven by Science. Motivated by Security.
VOICE RECOGNITION FOR THE EARTH
We are a tactical geophysics technology company leveraging the sounds within the earth to deliver valuable physical security and operational information to our customers. We understand that validated information leads to rapid, accurate decision making.
Our solutions enhance physical security and situational awareness for critical infrastructure organizations, those charged with national defense and homeland security.
See Quantum at Upcoming Events
Download our Publications
Electricity Today: Smart Grid Feature
DETERRENCE DRIVES NEXT GENERATION POWER GRID SECURITY
HOW TO PROTECT ASSETS USING AWARENESS ZONE TECHNOLOGIES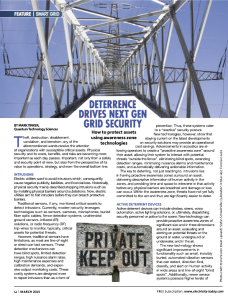 "The key to deterring, not just reacting to, intrusions lies in having proactive awareness zones surround an asset, delivering descriptive information of human activity in the zones, and providing time and space to intervene in that activity before any physical barriers are breached and damage or loss can occur. Within the awareness zone, threats have not yet fully committed to the act and thus are significantly easier to deter."
READ ARTICLE